Professor Berrin Pehlivan got acquainted with the material and technical capabilities of the National Center of Oncology
01.11.2021
|
Views: 2852
Font size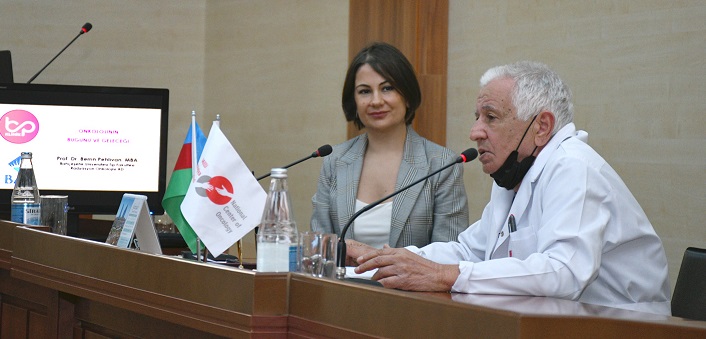 A well-known Turkish specialist in radiation oncology, oncologist, Prof. Dr. Berrin Pehlivan visited the National Center of Oncology in the framework of her visit to Azerbaijan.
Prof. Berrin Pehlivan got acquainted with the equipment installed at the Center.
The head of the Department of Radiation therapy, Honored Scientist, Doctor of Medical Sciences, Professor Isa Isayev gave detailed information about the material and technical capabilities of the National Center of Oncology. He also informed the guest about 8 pieces of modern equipment made in the United States and the Czech Republic currently functioning at the center. Professor I. Isayev noted that about 250-300 patients a day, about 3000-3500 patients a year receive treatment at the expense of the state. He noted that the specialists of the center improve their knowledge in scientific centers with great prestige in the field of oncology in various countries around the world.
The head of the Department of Medical Physics and Clinical Topometry Rovshan Rzayev also participated in the meeting. Prof. B.Pehlivan presented her book "Cancer in 50 questions" to Prof. I.Isayev and R.Rzayev.
I. Isayev introduced the Turkish professor to the participants and informed them about her deep knowledge and rich experience in the field of oncology. He noted that she has experience in various countries around the world. He informed the participants that B.Pehlivan would report on the current state of radiotherapy and the processes taking place in the world in this field.
During her presentation on "The present and future of oncology" B.Pehlivan told about the importance of the Human Genome Project, noting that the implementation of this project will open new prospects in the field of oncology. She added that in the framework of the project with gaining more detailed knowledge about the human genome, an individual approach has started to be applied to each patient. She noted that the detection of the genetic mutations occurring in cancer patients is very important and drug therapy is determined based on these changes: "Currently, as a result of determining the most appropriate treatment for the tumor, there are opportunities to improve the patient's quality of life."
The Turkish professor noted that the number of drugs used in the treatment of cancer has increased in recent years. At the same time, she emphasized that the use of modern methods has prolonged cancer patients' life.
B.Pehlivan also gave detailed information about immunotherapy, FLASH radiotherapy which is considered the future of radiotherapy, the benefits of proton therapy.
In the end, discussions were held around the presentation.