"New Era in Breast Cancer Diagnosis and Treatment" Webinar
17.08.2022
|
Views: 2841
Font size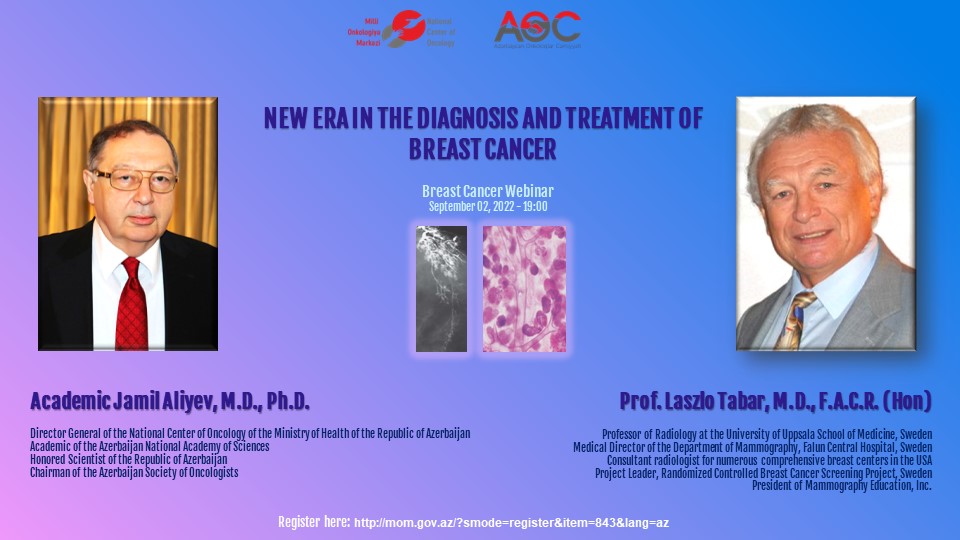 "New Era in Breast Cancer Diagnosis and Treatment" webinar will be held with the organization of the National Center of Oncology and the Azerbaijan Society of Oncologists.
In the webinar, Prof. Laszlo Tabar will cover a very important innovation in the breast cancer diagnosis and treatment. In his career spanning over 40 years, Prof. Laszlo Tabar has made important innovations and has contributed significantly in the worldwide fight against breast cancer.
Dr. Laszlo is a Professor of Radiology at the University of Uppsala School of Medicine, Medical Director of the Department of Mammography, Falun Central Hospital, Consultant radiologist for numerous comprehensive breast centers in the United States of America, Project leader of the Randomized Controlled Breast Cancer Screening Project and President of Mammography Education, Inc.
The event will be held in English on the ZOOM platform.
Date: September 2, 2022 - 07:00 PM
Register here:
Last date for registration: September 01, 2022 - 12:00 PM
24 hours before the start of the event, a link and information for participation will be sent to the email address you specified during registration.