A new international success of the oncologists of our country
30.07.2021
|
Views: 3452
Font size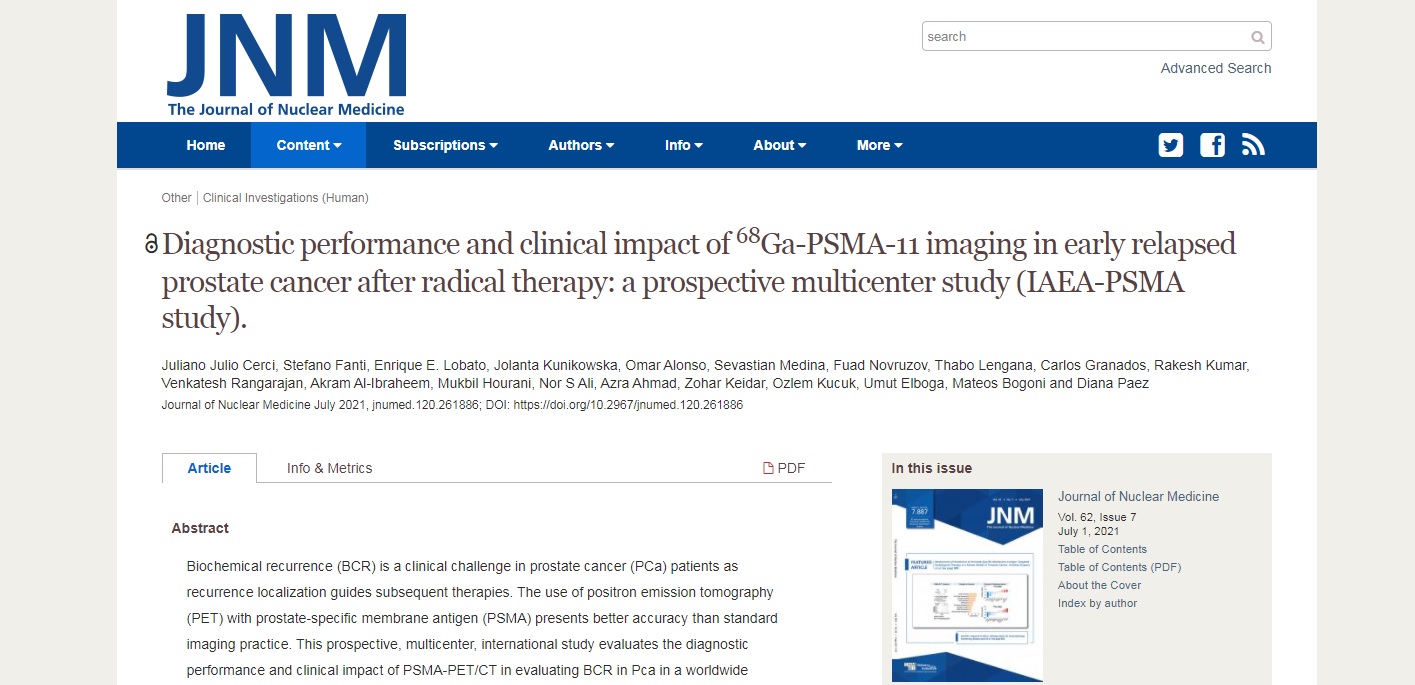 Efforts to solve the problems of oncology which is one of the most complex and responsible fields of medicine have always been supported by the state in Azerbaijan.
The scientific and medical staff of the National Center of Oncology, which has extensive experience in the fight against oncological diseases, has all the conditions for early diagnosis, prevention and treatment of oncological diseases.
Along with the implementation of screening programs and the provision of high-quality medical services to the population, the center successfully cooperates with a number of reputable research institutions around the world. The purpose is to further deepen membership and bilateral cooperation, and to exchange personnel and experience with reputable international anti-cancer organizations, universities and research institutes.
In 2016, for the first time in Azerbaijan, the Nuclear Medicine Center was launched at the National Center of Oncology. Nuclear Medicine is a constantly improving clinical field of medicine that allows molecular and functional imaging of oncological, cardiological, neurological, and endocrine diseases with special radiopharmaceuticals, as well as targeted radionuclide therapy. The PET/CT - Positron Emission Tomography device installed in the center is successfully used in the early diagnosis of a number of diseases. In addition, the Nuclear Medicine Center is included in the Research for Life - EARL accreditation program established by the European Association of Nuclear Medicine. It was included in the list of the PET-CT centers of 27 developed countries of the world and has become the only center in the region that meets modern protocols requirements. The EARL (Research for Life) accreditation makes it possible to conduct internationally standardized research between the center and other accredited institutions.
The staff of the Nuclear Medicine Center has recently achieved significant international success. The research on "Early diagnosis and treatment of prostate cancer" conducted by the staff of the center under the leadership of Academic Jamil Aliyev, the results of randomized, prospective research jointly conducted by 18 most prestigious clinical centers from 15 countries involving data from more than 1000 patients were published in the American Journal of Nuclear Medicine. According to the impact factor index (IF --- 10.057), this journal is the third among medical imaging journals and the first in the field of nuclear medicine.
Recently, as a result of a cooperation agreement between the University College London Hospital and the National Center of Oncology, results of the research on "Molecular diagnosis and treatment of pituitary gland and neuroendocrine tumours" conducted by Doctor of Medicine Prof. Aziz Aliyev, Doctor of Philosophy in Medicine Fuad Novruzov, Elnur Mehdi and Irada Aliyeva were published in the official journal "European Journal of Hybrid Imaging" of the European Society of Nuclear Medicine.
These great successes are a result of large-scale sustainable reforms in the field of medicine in our country, the rapid modernization of the national health care system and its integration into the world's scientific and practical achievements.