Training courses for foreign doctors continue at the National Center of Oncology
18.09.2019
|
Views: 2736
Font size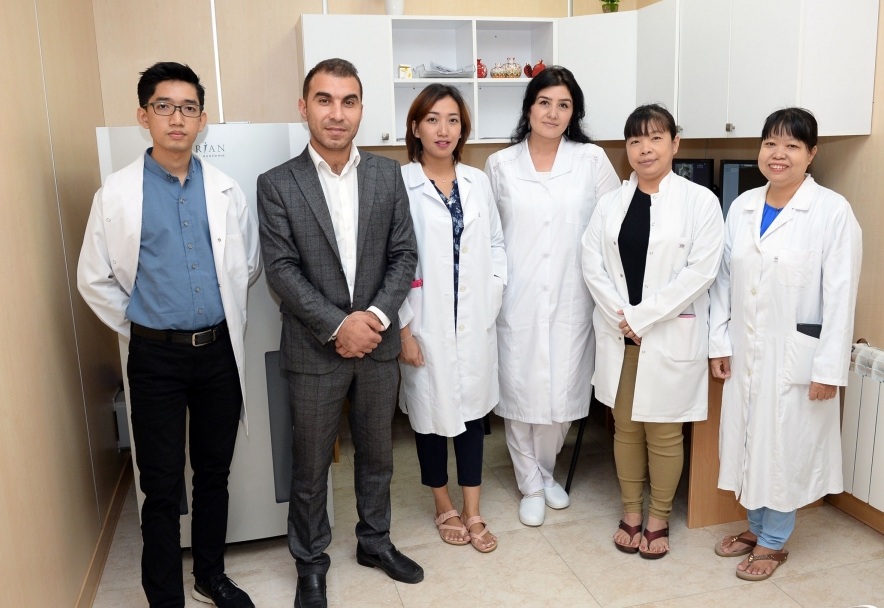 The problem of oncology, one of the most difficult and responsible areas of medicine, is always in the spotlight of our Government.
In recent years, all conditions for the diagnosis and treatment of cancer have been created at the National Center of Oncology. Thanks to President Ilham Aliyev's care and attention, the Center is now equipped with the latest medical equipment, including a mobile diagnostic complex, and the problem of providing cancer patients with anti-tumor drugs has been eliminated. Academic Jamil Aliyev, Director General of the National Center of Oncology, has an exceptional role in the development of oncology services in the Republic. If you look at the area where the National Center of Oncology is located today, you can see that a big medical town has been built here. With its rich material and technical base and strong human resources, the National Center of Oncology can be ranked among the world's leading oncology centers.The staff of the center provides high-quality services to oncological patients, perform early diagnostics of malignant tumors, treatment of such patients using modern surgical methods, radiation therapy and drugs, conduct large-scale scientific research to further improve existing methods of treatment.
Head of the Radiotherapy Department of the center, Honored Scientist, Professor Isa Isayev told AZERTAC that professional development courses for oncology workers from foreign countries within the framework of international cooperation programs are successfully underway at the National Center of Oncology of the Ministry of Health of the Republic of Azerbaijan.3-month courses for 3 radiation medical physicists, 1 physician radiologist oncologist from Myanmar, 1 physician radiologist oncologist from Tajikistan have started in the Radiotherapy and Medical Physics Department of the center equipped with the most modern radiotherapy techniques (2 computer tomography, 7 line accelerators, 1 high-tech brachytherapy GammaMed units), since September 16. Additionally 5 physicians from Myanmar, including threephysicians and two physicists , will be trained since December 15.
According to Professor, these courses are conducted within the framework of the International Atomic Energy Agency's Technical Cooperation Program in the clinics with highly qualified personnel and technological facilities that meet modern standards under the suggestion and financial support of the Agency.
The program of theoretical and practical trainings for the training of medical physicists and radiotherapists prepared by the staff of the National Center of Oncology has been discussed and approved by the experts of the International Atomic Energy Agency. In addition to the physical bases of radiation therapy for cancer patients, the program includes radiobiology, clinical oncology, and methods for performing radiotherapy, depending on the localization of malignant tumors.