The 4th International Urooncology Symposium was held in Baku
20.12.2021
|
Views: 1076
Font size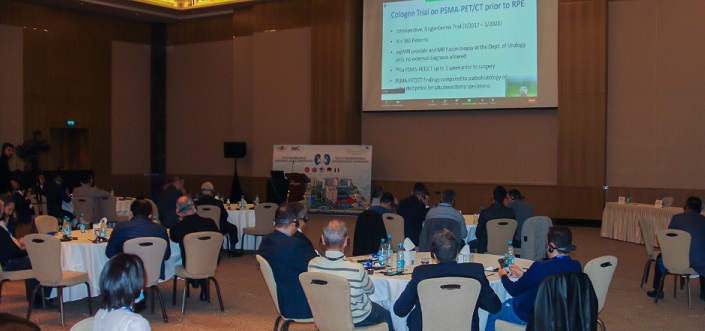 On December 18, the 4th International Urooncology Symposium was organized by the National Center of Oncology of the Ministry of Health of the Republic of Azerbaijan and Azerbaijan Society of Oncologists.
Dr. Fuad Guliyev, Deputy Director General of the NOC opened the Symposium and greeted the participants on behalf of Academik Jamil Aliyev, Director General of the NOC. Dr. Fuad gave detailed information about the Center, which is the largest center in the South Caucasus and is equipped with the most modern innovative equipment and technologies. Dr. Fuad emphasized the fact of significant progress observed in the country in all areas as well as in the field of urooncology.
Along with Azerbaijani doctors, experts from the United States, Turkey, Germany and France made presentations on urological diseases at the Symposium. Such events provide an opportunity to share the achievements of recent years in the field of health in Azerbaijan, as well as to exchange experience. Fuad Guliyev noted that the current problems of oncology, innovations applied in the treatment of oncological diseases would be discussed at the Symposium.
Professor Sudeyf Imamverdiyev, Corresponding Member of ANAS, Doctor of Medical Sciences, spoke about the great victory of the Azerbaijani National Army under the leadership of President, Supreme Commander-in-Chief Ilham Aliyev. A minute of silence was observed in memory of the martyrs who lost their lives for the liberation of our lands.
The following topics were discussed during the Symposium: "Modern approaches to the treatment of upper urinary tract cancer", "The role of MRI in the diagnosis of prostate cancer", "PSA and MRI-fusion biopsy", "Radical prostatectomy in high-risk patients", "Oligometastatic prostate cancer", "Molecular diagnostics in prostate cancer and target treatment with 177Lu/225Ac-PSMA", "Laparoscopic radical nephrectomy: the gold standard for kidney tumors", "Prognostic significance of genetic markers in kidney cancer", "Bladder cancer", "Approach to invasive bladder cancer: EAU Guidelines", "Approach to incidental adrenal neoplasms" and "Laparoscopic adrenalectomy: How do we do it?".
The symposium was accredited by the Scientific-Medical Council of the Ministry of Health of the Republic of Azerbaijan with 5 CME credits.