Cooperation Agreement Signed Between National Center of Oncology of The Ministry of Health of Azerbaijan Republic and Orfit Industries of Belgium
19.01.2015
|
Views: 3317
Font size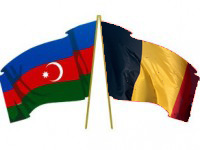 Cooperation agreement with leading oncology centre in Baku, Azerbaijan
Orfit strengthens its position as worldwide provider of immobilisation equipment for radio therapy
Antwerp (Belgium) 19th of January 2015. Orfit Industries have reached a cooperation agreement with the National Centre of Oncology (NCO) in Baku, the capital of Azerbaijan, the leading oncology institute in the country and in the Caucasus region as a whole. Orfit Industries is a world-leading supplier of systems and equipment for patient immobilization and positioning in radiation therapy.
The agreement includes participation by Orfit in the organisation of clinical trials and research as well as in scientific and educational events, always in close cooperation with the NCO. Orfit will also keep NCO Baku updated on all new Orfit technologies and provide training of staff members of the radio therapy department at the Centre. As market leader in this specific niche, Orfit puts a lot of effort in giving training sessions at no charge for staff expected to handle its state-of-the-art equipment.
For its part, NCO Baku will provide adequate staffing for educational services and internships for professionals from other centres to learn new clinical procedures and the implementation of new patient positioning and immobilization solutions. The NCO will also promote Orfit products and technologies to visitors and prospective customers.
Precise patient immobilisation, an Orfit core business, is essential for radio therapy treatment to be successful. Orfit's thermoplastic masks ensure that the patient is immobilised in a comfortable, exact and reproducible way to a point where only movement of less than 1.5 mm is possible. This enhances treatment efficiency as it prevents radiation from damaging the healthy tissue surrounding the tumour.
Orfit is recognized as the world-leading supplier of complete patient immobilization and positioning equipment. As such, Orfit maintains an important R&D (Research and Development) activity. Various cooperation agreements with clinical research partners contribute to Orfit's technological lead in the development of improved products available to the world market. The cooperation with these clinical institutions is not only helpful but also required for the validation of its medical devices in a clinical environment.