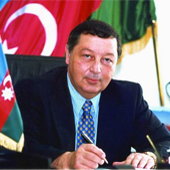 Jamil Aziz oglu Aliyev
Academician, oncologist surgeon
Jamil Aziz oglu Aliyev was born in the family of outstanding public figure, famous scientist Aziz Aliyev on March 30, 1946 in Baku.
In 1968, J.A.Aliyev graduated from the Azerbaijan Medical Institute named after N.Narimanov (now Azerbaijan Medical University).
In 1973, J.A.Aliyev defended PhD thesis on "Treatment and diagnostics of cancer of lower lip skin and oral mucous membrane" on the specialty of "oncology" in Baku.
In 1978, J.A.Aliyev defended doctoral dissertation on "Plastic surgery operation on melanoma and skin cancer" on the specialty of "oncology" at the All-Union Oncological Center of Russian Academy of Medical Sciences.
In 1987, J.A.Aliyev was given a scientific degree of professor by Higher Attestation Commission of the USSR for his contributions in the field of training scientific personnel on the specialty of oncology.
Since 1994-Head of the Department of Oncology of Azerbaijan State Doctors Improvement Institute named after A.Aliyev
Academician J.A.Aliyev is one of the leading specialists in the field of treatment and examination of tumors of breast, head and neck, soft tissues. He is one of the founders of scientific school for diagnostics and treatment of mammary gland and modern clinical oncology in Azerbaijan. J.A.Aliyev is a founder and head of oncology scientific school in Azerbaijan.
Academician J.A.Aliyev is an author of 17 monographs published in Baku and Moscow (one of them was published in English), resources for students, 10 inventions, about 600 published articles.
Academician J.A.Aliyev acted with reports on the results of his research in different international conferences in Uzbekistan, Russian, England, Germany, France, Austria, Italy, Turkey, Japan, and USA. Under his supervision over 40 dissertations for the degree of Doctor of Philosophy in Medicine and 8 dissertations for the degree of Doctor of Medical Sciences were defended.
1968-1972

Laboratory assistant and assistant in Doctors Improvement Institute named after A.Aliyev of the Ministry of Health of Azerbaijan;

1973-1978

Research worker and senior research worker in All-Union Oncology Center of Russian Academy of Medical Sciences;

Since 1978

Head of Department of General Oncology of Scientific Research Institute of Roentgenology, Radiology and Oncology (now National Center of Oncology) of the Ministry of Health of the Azerbaijan Republic;

1980-1990

Deputy Director on Scientific Affairs of Scientific Research Institute of Roentgenology, Radiology and Oncology (now National Center of Oncology) of the Ministry of Health of the Azerbaijan Republic;

Since 1990

General Director of the National Center of Oncology of the Ministry of Health of the Azerbaijan Republic;

1980

Laureate of award named after N.N Petrov of USSR Academy of Medical Sciences;

1996

Laureate of award named after Y.Mammadaliyev of ANAS;

2003

Laureate of award named after Acad. M.Topchubashov of the Ministry of Health of the Azerbaijan Republic;

1991

Honorary Professor of Hammersmith Hospital of London University;

1995

Active member of New York Academy;

1997

Member of European Oncologists Society;

1995

Member of CIS Oncologists Association;

1988

Chairman of Azerbaijan Committee of International Organization "Physicians for the Prevention of Nuclear War";

1979

Chairman of Republican Scientific Medical Society of Oncologists;

1993

Chairman of Dissertation Council for specialties of "Oncology", "Radiation diagnostics and radiation therapy";

1995

Editor-in-chief of "Azerbaijan Hematology and Oncology Journal";

1988

Member of editorial staff of "Azerbaijan Medical Journal";

1995

Member of editorial staff of "Health" journal;

2003

Member of editorial staff of "Biomedicine" journal;

1984

awarded with the badge of "The Best of Health";

2006

awarded with "Order of Honor" of the Azerbaijan Republic;

2011

awarded with "Gold Medal" of International Ecoenergy Academy;

2015

awarded the prize named after academician M. Mirgasimov of ANAS for fundamental scientific works on the study of oncological problems of subclinical pathology of the liver cancer;

2000

Honored Science Worker of the Azerbaijan Republic;

2001

Academician of Russian Academy of Health of Russian Federation;

2001

Academician of Academy of Natural Sciences of Russian Federation;

2001

Academician of Azerbaijan National Academy of Sciences;

2010

Academician of European Academy of Natural Sciences;

2010

Academician of Georgia Academy of Sciences;

2011

Honored Science Worker of the Dagestan Republic;